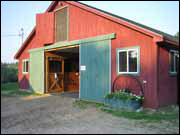 SouthLine Farm is a beautiful facility containing two barns, indoor and outdoor riding rings, 60 foot roundpen, plenty of spacious grass pastures and many other ammenities.

The Main Stable Area has seventeen stalls and an oversized central aisleway leading to the attached indoor arena. All stalls and the aisleway are well lit and have rubber mats. A large heated tack room contains plenty of storage space along with a viewing area into the indoor arena.

The Second Stable Area is located directly across from the Main Stable. It offers 10 spacious stalls with rubber mats, a center aisle for grooming and its own tack room.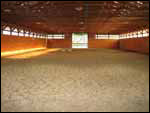 The indoor riding arena is 70x150 feet with excellent natural and electric lighting. Translucent windows along the roof keeps the indoor bright without harsh glare. Two large barn doors on each side of the arena opens up to a lovely view of the property and seal the ring nicely when closed in winter. The footing is a sifted sand with clay sandust mix and is watered and raked on a regular basis.

Turnout at SouthLine includes multiple options to suit the turnout style of your horse. Turnout sizes range from small enclosures next to the barn to large grassy fields. SouthLine accomidates individual as well as group turnout. All pastures have wood fencing with electrical wire reinforcement. Heated water tubs are used for all pastures in the winter.